Herd immunity. You may have heard this term before, but if you haven't, herd immunity occurs when most of a community's citizens are vaccinated against a disease. Those that are vaccinated act as a shield to block disease from spreading to those who are unable to get the vaccine. The unvaccinated in such instances are those who are too sick/allergic/too young for a specific vaccine.
Herd immunity has waned due to the rise in unvaccinated people. This is especially scary in places where large pockets of communities are unvaccinated. Many children, even those who have been vaccinated, have a higher probability of getting sick, because not all vaccines are 100% effective.
Some communities in California have the highest populations of unvaccinated children in the United States.
Los Angeles-based mom, Trisha Gum, has been asking herself if she should be sending her children to play with children who have not been vaccinated. Her children have been vaccinated, yet they're not entirely protected in communities with dwindling herd immunity.

Trisha has become tired of wondering if the children hers play with are vaccinated, so she has come up with a solution to ease worried parents. Her new organization, Parents For Vaccinations, sells wristbands to families whose children have been vaccinated. These wristbands come in varying sizes, with discounted rates for family packs, and can be purchased through the Parents For Vaccinations website. With this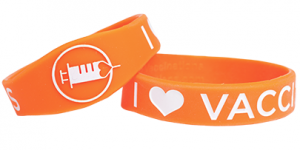 movement, she hopes that someday many children will be wearing these wristbands to take the wonder out of the question many parents have been asking: Are your children vaccinated?
For more more information, you can visit Parents For Vaccinations.
In support of this movement, know that a portion of the proceeds from the sale of the wristbands goes to Voices for Vaccines (VFV). The VFV organization is a parent-driven source of science-based information about vaccines and preventable disease and gives parents a platform to discuss vaccine-related issues. I highly support the funding of VFV and appreciate the information it gives to its viewers.
Take a little time to orient yourself with these two organizations.
As I always say, vaccines are an amazing gift you can give to your children. Get educated, keep learning, and ask questions.