Vaccinating your child is the one way that you can shield them from getting some seriously harmful diseases. But did you know that
when you vaccinate your child you are also helping to keep other children safe from harmful diseases
? You are! And you are especially helping prevent disease in those children who are too sick to get vaccines for themselves. A phenomenon called
herd immunity occurs when most of the people in a community are vaccinated against a disease, leaving no one to carry it, and thus, protecting those people who cannot be vaccinated
. This way, e
ven those who are not eligible for certain vaccines—such as babies, pregnant women, or people who are sick with immune system-compromising illnesses—get some protection. 
The following amazing illustrations provided by The National Institute of Allergy and Infectious Diseases (NIAID), show this concept very well. Here are three scenarios created by disease and vaccination in the community:
Scenario #1: If no one is vaccinated against a disease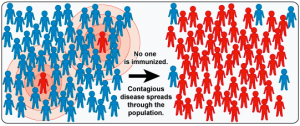 The people in blue above are healthy people who have not be vaccinated against a disease. Those in red are sick with a disease. When sick people enter a population of unvaccinated people, many of the healthy people become sick with the disease, as you can see on the right. When the disease has spread throughout the population we call it an outbreak.
Scenario #2: Some people are vaccinated against a disease, but not enough for herd immunity
When sick people (in red) enter a community with a few healthy vaccinated people (in yellow) and lots of healthy unvaccinated people (in blue), the chance of disease outbreak is also high. Those who are vaccinated will not get sick, but most of those who are unvaccinated become ill and spread the disease to others.
Scenario #3:  A population with herd immunity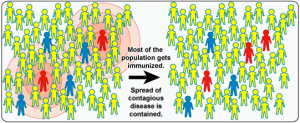 When a population has herd immunity, that means that most of it's citizens are vaccinated against a disease (people in yellow). Those vaccinated people act as shields to block disease from spreading to those people who are unable to get vaccinated. When sick people (in red) enter a herd-protected community, the disease may spread to a few healthy unvaccinated people (in blue), but will not reach all of the healthy unvaccinated people. This type of community is ideal to the preventing the spread of contagious diseases.
Unfortunately, because more and more people are deciding not to vaccinate their children, the population is trending more towards scenario #2. If your child is vaccinated, he is protected. If you leave your child unvaccinated, your child may not be getting the benefits of herd immunity any longer. This is why certain diseases such as whooping cough, and measles are back on the rise. The only way to be sure your child doesn't pick up a harmful, potentially life-threatening disease is to get him or her vaccinated.
References:
Vaccine.gov www.vaccine.gov
Photos courtesy of The National Institute of Allergy and Infectious Diseases (NIAID)