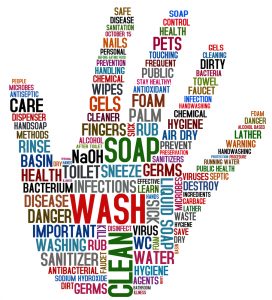 I'm the "wash your hands" mom, and that's because it's so engrained in me due to working a labs.
However, we also spray alcohol on EVERYTHING, including our hands in leu of hand sanitizer. The alcohol leaves our hands chapped, but the soap in the lab is expensive due to being highly-antimicrobial. It seems a better, more efficient, and cheaper  option to douse ourselves with isopropanol just as you would a hand sanitizer. But, is it really better? Is it worth spending the extra grant money on expensive soap? I reviewed this journal article (billed the most comprehensive study of it's kind) and I have the answer. (Article information can be found at the bottom.)
Health care workers typically wash their hands with soap for around ten seconds before laying their hands on the next patient. And while you learned in grade school that you need a full thirty seconds of scrubbing with soap and hot water to be (mostly) germ-free, this ten second wash might just be as effective.
In the study the team used 62 volunteers with 14 different hygiene products and tested them with several different kinds of viruses and bacteria.
What did they find?