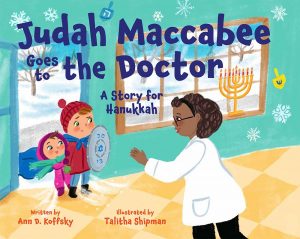 There are far too few children's books on vaccines. Too many children are scared and confused about vaccines and it's time we start the dialog. Our little ones are curious creatures who could benefit from knowing more about why they have to roll up their sleeves for vaccines.
Today, there's a new children's book on the shelves that discusses the topic of vaccination: Judah Maccabee Goes to the Doctor.
Author Ann D. Koffsky offers lots to talk about in this interesting children's book beautifully illustrated by Talitha Shipman.