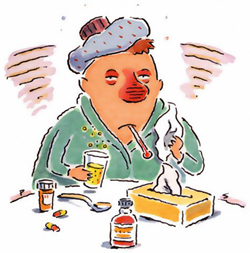 You could still get sick with the flu even if you get the flu shot, or it could be something else. Here are some reasons why you may have flu-like/flu symptoms even after you got the shot:
You may be sick from some other respiratory virus like the common cold, which has some similar symptoms to those of influenza. This can be confusing because these colds circulate during the same time as the flu does. The flu vaccine does not protect you from the common cold viruses.
You may have gotten sick during the two week time period between which you got the shot and you develop antibodies to the flu strains in the shot. Often times this is when people say they got sick from the flu shot. However, you are unable to get sick from the flu shot.
You may have been exposed to a strain of the flu that is very different from those in the flu vaccine. The strains in the vaccine are able to offer some coverage of other similar strains not in the vaccine. But there many strains of the flu and they can easily mutate to form new strains. Therefore, it can be somewhat hard to predict which strains of the flu will circulate during the season. However, the shot will more likely than not offer some coverage and that's better than nothing.
Different bodies respond differently to different vaccines. If your body doesn't respond or make ample antibodies you may still get sick from the flu. There's nothing around that.
You can't get sick from the flu shot, but you may still end up sick. Nothing is certain but some protection is better than no protection. The flu can be and is deadly so please consider getting the shot for yourself and your children, not only to protect your family but to offer some herd immunity to those unable to protect themselves this season!