Flu season is upon us here in the United States, and it's not something to be taken lightly. I'm very passionate about flu education and information, and that's why I'm breaking down everything you need to know about the flu, the influenza virus, and the flu vaccines into three different posts over the next few weeks.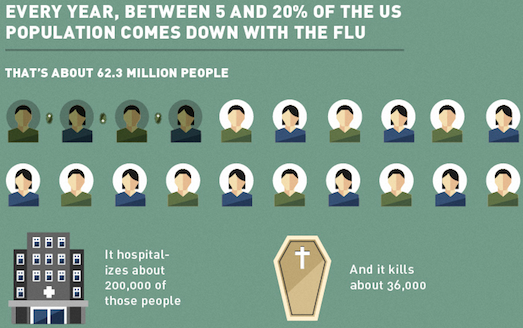 Here, I want to focus on what the "flu" actually is, because I think the word "flu" is very misused in the United States. I often hear or overhear people saying something along the lines of, "I was throwing up all night, I must have the flu." While the flu can cause vomiting and diarrhea, more often in children than adults, the true flu is actually a respiratory illness coupled with muscle aches, extreme tiredness, and sometimes a fever. Adults with bouts of vomiting and not the above mentioned common flu symptoms often have some other sort of stomach virus, possibly food poisoning, or something else.
The flu is also often confused with the common cold. Because both the cold and the flu are respiratory illnesses, sometimes it's hard to tell what you have come down with. But, the flu tends to be a bit worse than a normal cold due to a fever, body aches, extreme tiredness, and a more intense dry cough. The typical cold usually results in a runny/stuffy nose and does not usually lead to serious complications, whereas the flu can lead to complications, life-threatening conditions, and even death.