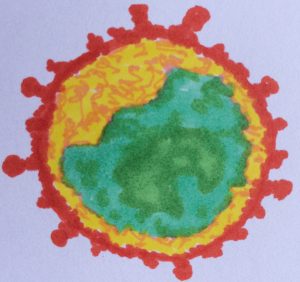 The Middle East Respiratory Syndrome (MERS) has been all over the news lately, so I thought it important to post about.
My dad actually called me about it a few weeks ago, asking if it was something I was concerned about, since one of the cases was found only an hour from my home. My response: I'm not at all concerned. But, that doesn't mean YOU shouldn't be concerned; should you find yourself traveling to one of countries where MERS can be more commonly found, you may want to pay attention.
MERS wasn't something I studied in my graduate studies, due to the fact that it's such a new virus and a non-native virus to the U.S. So, I came up with some questions about MERS and researched out the answers.
What is the MERS?
MERS is an illness that is caused by a virus called MERS-CoV. The virus is of the family coronavirus, thus the "CoV".
Most corona viruses infect the upper respiratory and gastrointestinal tract causing the common cold, however there are several "novel" (new, not resembling something seen or known) coronavirues. MERS-CoV is considered a novel coronavirus, as was the SARS-CoV, which caused Severe Acute Respiratory Syndrome (SARS).