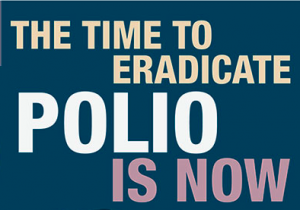 You may think polio is a disease of the past, and here in America, it sort of is. However, without the polio vaccine, America could easily see polio again.
Polio was once the leading cause of disability in the United States. It was also considered one of the most dreaded of the childhood diseases. During the mid twentieth century there were more than 25,000 cases of polio reported each year.3 (And probably a high number of unreported cases, as well.)
The polio vaccine was introduced in the U.S. in 1955 and by 1960, the number of reported cases had dropped to about 3,000 and in 1979 to about 10 cases.3
Today polio is considered eradicated in the United States. However, polio is still very common in some developing countries. And the effort for world-wide eradication of polio is still underway.
All it would take for polio to enter the United States is for an unvaccinated person to travel to a place where polio still exists. That person could easily carry polio back into the U.S. and begin to infect unvaccinated individuals. And those people would infect more people, and so on. This has happened several times in the past fifty years since eradication, but thankfully the cases remained isolated due to the high numbers of vaccinated individuals.
But, polio could easily make a come back, so don't believe that if you or your children are not vaccinated that they are safe. Just because we don't see the disease every day doesn't mean that it doesn't exist and that we shouldn't protect ourselves and our children.




So what's so bad about polio, anyway?
Poliomyelitis (polio) is a highly infectious disease that is caused by an enterovirus. The virus invades the nervous system and lives in the throat and intestinal tract of those who are infected.