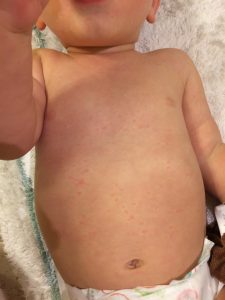 Update! My son is now going on six and he's JUST FINE! 🙂
My son got his first Measles, Mumps, and Rubella Vaccine (MMR) a little over two weeks ago. This vaccine has gotten a lot of negative press lately, but it really IS a great vaccine. One reason why it's so great is because it contains weakened live viral particles. Live vaccines create the strongest immune response because they are most like the disease-causing virus. The not so fun part about a live vaccine is that, because they are most like the wild virus, the body often displays some of the symptoms of the disease. Many children experience these mild symptoms with the MMR vaccine:
Fever (up to 1 person out of 6)
Mild rash (about 1 person out of 20)
Swelling of glands in the cheeks or neck (about 1 person out of 75), which occurs less often after the second dose.
Temporary pain and stiffness in the joints, mostly in teenage or adult women (up to 1 out of 4)
Because it takes time for the body to create an immune response (that we can see), many of these symptoms do not show up until around two weeks after the injection. And to the DAY, my son developed several of these mild symptoms.
I'm sure my kids don't appreciate this, but I always find their symptoms fascinating. That's why you see a lot of pictures of my children's symptoms–they get everything, by the way. And I'm often happy to see these signs as I know that their bodies are making the proper response to the injection. (I know, that's odd.)
Anyway, he ran a fever for several days about two weeks after the injection, and then he developed the measles-like rash. The rash was red and raised, mostly on his torso and face. I am including a picture of his tummy.
I wanted to post this because so many people come to me wondering if this is a serious problem or a vaccine allergy. But, in the case of the above problems, no treatment is needed, and the symptoms should go away in several days. If the child is getting worse, however, it might be wise to consult your child's doctor.