Before reading this post, you may want to go back and read about innate immunity and the cell types that carry out these types of responses. Here.
The innate immune system is our first line of defense against microorganisms. It not only blocks the entry of such things, but also can limit or completely eliminate the growth of these organisms on our tissues.
The skin is one of the most important barriers in the innate system, as well as the tissues along the gastrointestinal tract and the respiratory tracts. The continuous epithelial tissues along these tracts also serve as barriers from the organisms of our outside environment. I like to think about it this way: the opening of the mouth and nose down to the exit point in our backside is a tube, and this tube needs protection from microorganisms that may attempt to enter it.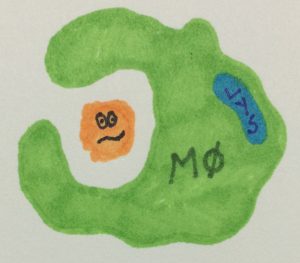 Should an organism successfully breach these barriers, the innate immune system brings in cells to take care of the situation.