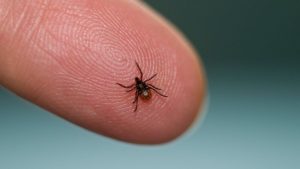 This is a great little informational video on this year's tick season: HERE
It's a little hard to understand because Dr. Goudarz has a thick accent, so I've dictated the important points below! Please read because if you live in the northeast (US), this year's tick season is BAD.
Here we go…
It's summertime and that means ticks and consequently, Lyme disease is on the rise. There has already been a higher rate of infection his year so far US northeast.
Why?
There have been exceptionally warm winters in the northeast, as well as reports and evidence of a higher number of white-footed mice (main reservoir for lyme and three other pathogens).
Ticks are being tested and researchers are finding more than 1/3 of ticks testing positive for lyme. And on top of that, an increasing number of ticks infected with another tick-associated disease.