A virus that causes the hand, foot, and mouth disease has plagued my home. And since it's taken over my days and nights, I feel the need to pull something positive from it.  I want all of you parents to know how to spot it, how to handle it, and how to protect other children from getting sick
.
My son, Stevie, was the first to get sick, and now my daughter has it too. I'm going to share our story along with some helpful information incase this takes over your home. I also want to share the pictures I took of my son and daughter.
What is hand foot and mouth?
This is a disease caused usually by Coxsackievirus A-16 and less frequently by Enterovirus 71. This virus usually affects small children (Infants to 5 years) much worse than it does for older children and adults.
What does it look like?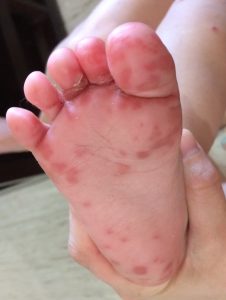 Hand, foot, and mouth begins with a mild fever (101 F-102 F), diminished appetite, sore throat, and a general feeling of being sick. A few days after the fever begins, painful sores develop in the mouth. The sores usually begin in the back of the mouth but may move to the inside of the cheeks, tongue, gums, and lips. These sores may begin as red dots and tend to develop into blisters that may pop, leaving lesions or ulcers. This rash is then seen on the palms of the hands, soles of the feet, knees, genital  area, and lower calf.
My son came down with the fever first, as is typical. I figured he was coming down with a little something and didn't think much of it. A few days later he would not eat, was incredibly cranky, and just not himself. That night a few sores had appeared on his butt, calves, and feet. He did not sleep that night. In the morning his palms, calves, bottom, and feet were covered in terrible oozing blisters and red-purple spots. The next few days were long. He wouldn't eat, wouldn't sleep, and couldn't be put down. After four days of not eating, still having high fevers, and the worst blisters I've ever seen, I took him in to see a doctor. Like I figured, there wasn't much he could do to help him, but he did tell me that Stevie's case was the worst case he had ever seen. That's why I wanted to share this story and these photos. Continue reading →