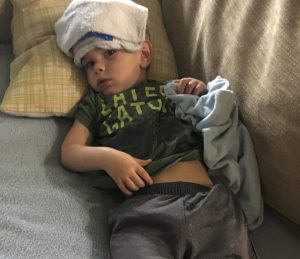 My son, Stevie, is turning three in about ten days and here it is again, the birthday curse.
On his first birthday he contracted a nasty case of hand-foot-and-mouth that left him with open sores, finger and toe nails falling off, and a cancelled birthday party. And on his second birthday we were all throwing up from a stomach virus. So he's turning three in a few days and it's only appropriate that he come down with another case of hand-foot-and mouth.
What's going on?! I'm convinced it's the birthday curse. Or maybe it's just the curse of the preschooler–they're germy little buggers.
Hand-foot-and-mouth is a disease caused by multiple viruses and virus strains. There are at least seven strains of the coxsackievirus and at least one enterovirus that can cause the disease. So therefore, your little ones CAN get it again. Continue reading →