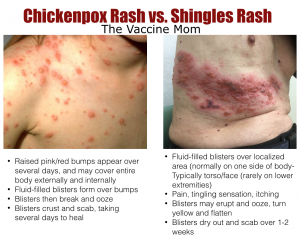 For starters, both shingles (herpes zoster) and chickenpox (varicella) is a result of the same virus called the varicella-zoster virus, but they occur at different ages. Chickenpox can occur at any age, and shingles can occur any time after the person has had chickenpox. The two diseases bring a lot of discomforts to patients. In most cases, they irritate the skin and cause a blistering rash that scabs and may scar.
Whey They Occur and Physical Characteristics
The chickenpox is common in children below five years, while shingles infects typically people over 50 years. Shingles, however, can cause infection in anyone at any age if the chickenpox virus has already infected their body, mostly the elderly. Many cases of infection come from people above 50 years old.
Chickenpox and shingles do tend to differ in look. Chickenpox causes itchy blisters to form all over the body, sometimes internally. Shingles is very painful and often starts with localized numbness/tingling and often but not all the time, a rash. The shingles rash typically displays on one side of the body due to the fact that the follow along nerve pathways.
The blistering rash does not move all over the body like chickenpox does, but stays localized. The most common areas for the appearance of the rash would be the torso and face. It's quite uncommon for the rash to spread elsewhere. Continue reading →